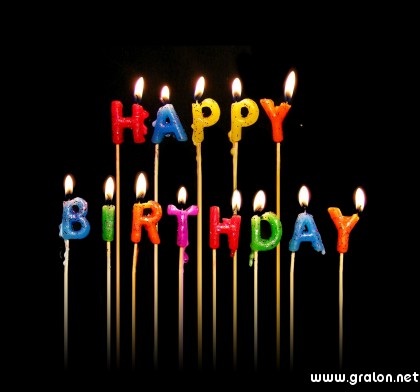 First off, it is Chris' birthday today – he's 21, wooohoo!!!
So a very happy birthday to him! He can finally go buy me…errr, himself drinks!
We are going to the Elephant Bar tonight to celebrate, yummy!
If I had a scanner I would love to post some baby pics his grandma just sent us…I know he would just LOVE that! :)
I haven't updated in a while so here goes.
Christmas: Christmas was awesome! It is definitely my favorite holiday; I LOVE LOVE LOVE
getting people presents, baking, looking at Christmas lights, and spending time with family and friends. My baking this year included truffles, sugar cookies, peanut butter balls, eggnog cupcakes, and peppermint chocolate cheesecake bars. Oh and I made some peanut butter fudge but it didn't turn out right :( Other than that we had our usual family get-togethers: x-mas eve dinner at my dad's parent's (polish food...yum), x-mas morning at my parents, x-mas day at my aunt's, and we had another get-together a few days earlier with my mom's family because everyone was going out of town. A few of my favorite gifts were a memory foam mattress topper (heavenly), a very nice GPS, and of course everything from Chris (Kurv vacuum)! He got some good presents too! I got to see a few friends that I hardly get to see, so that was nice too!
After
Christmas…well it was basically a blur. We both took off that week from work and Chris' cousin and his girlfriend came from Michigan to visit. Nothing really went as planned, to say the least. But it was still a good visit, a ton of driving on my part but that was okay since we got to put our GPS to use! New Years was pretty low-key, but we spent a few hours at a party at my parent's house. What a busy week.
I don't make resolutions for the New Year, but I always tend to think about things I want to do or make better. I hope I come here and read these things throughout the year :)
Take more pictures.
Read more.
Cook for people more often (other than Chris :P).
Save money.
Learn patience.
Uhm a few other things I may get in trouble for posting :O Haha!